You are here

Holding Down Expectations
Holding Down Expectations
Submitted by Atlas Indicators Investment Advisors on November 6th, 2022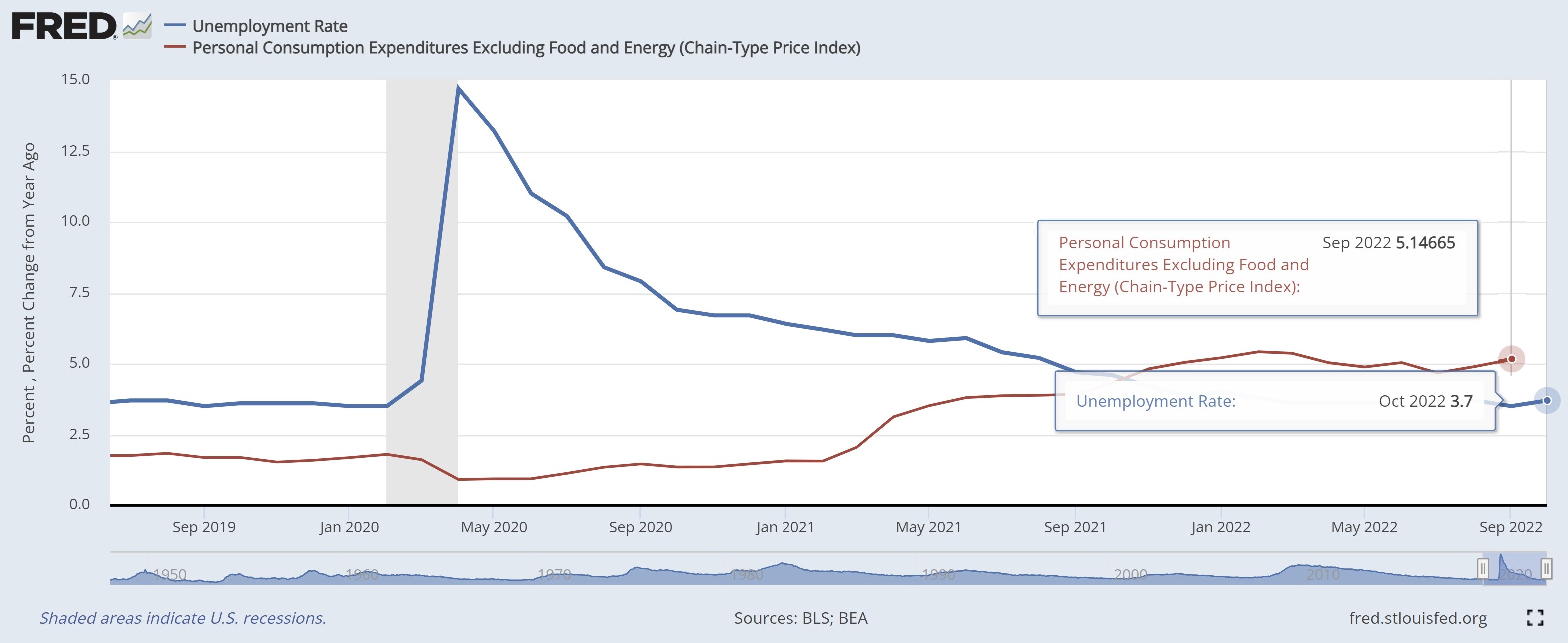 Every six weeks the Federal Reserve Open Market Committee meets to discuss monetary policies and to make any changes to it which they deem necessary. Their latest two-day meeting ended last Wednesday with the 12-person committee unanimously voting to raise the overnight lending rate banks charge each other by 0.75 percentage points; the range for this type of loan now stands at 3.75 - 4.0 percent, a far cry from the beginning of this year when it was 0.0 - 0.25 percent.
Wednesday's post-meeting statement highlighted the Fed's goals which include "achieving maximum employment and inflation at the rate of two percent over the longer run." Maximum employment is a tough goal because it is hard to measure the number of jobs our economy is capable of sustaining without upward wage pressure adding to inflation. Nevertheless, it is generally accepted that the current unemployment level of 3.7% percent is pretty darn close to representing a fully-employed economy. Inflation, on the other hand, is easier to quantify as there are a plethora of ways to monitor it, and they all suggest that we're nowhere near the stated goal; this includes the Personal Consumption Expenditures Price Index excluding food and energy which is the Fed's preferred measure (see chart above). Later in the statement, the committee reemphasized its commitment to bring inflation down.
Following the decision and press release, Chair Jerome Powell faced the press in a question-and-answer session. Prior to letting the reporters loose, Jerome offered an opening statement. In it he once again reemphasized the commitment to bring down inflation and mentioned that "restoring price stability will likely require maintaining a restrictive stance of policy for some time." Thoughts on how this all plays out are mixed. U.S. equity markets rallied when the rate decision was released and then headed lower once the press conference was underway.
Atlas sees the economy as weak. Further monetary tightening does not seem likely to improve its current trajectory. We are, however, an empathetic lot. Inflation is running too high and forcing a contraction might be the only way out. If Jerome and his cohorts can thread the needle (i.e., keeping growth positive while pulling down inflation), the Federal Reserve will have pulled off a heroic feat. We'll know more in the coming months and quarters how it plays out, but our expectations aren't high.