You are here

Classic Relationships
Classic Relationships
Submitted by Atlas Indicators Investment Advisors on May 28th, 2021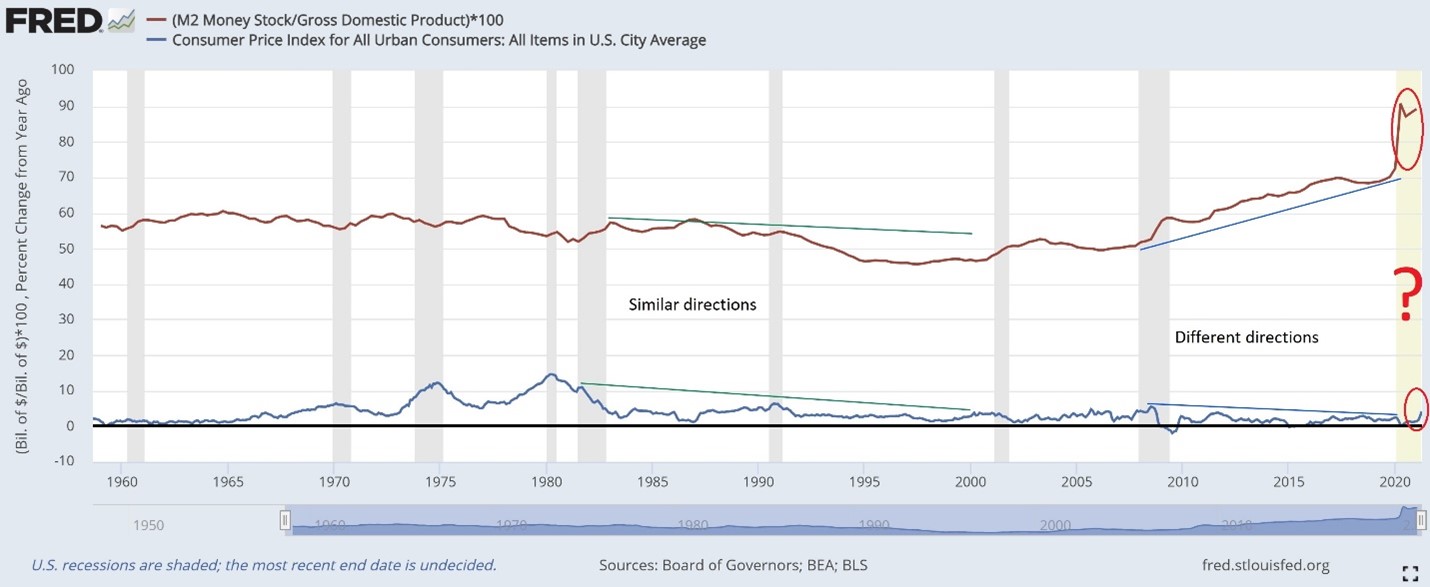 Classic relationships can be so romantic. They can even inform our own ideas about the successfulness of our pairings. Take Ethel and Fred Mertz. I know Lucy and Ricky are the main characters, but their neighbors really crack me up. Like Fred, I can't tell you how many times I've looked for the price tag on some item my wife wants to get rid of because I think its too good to throw out. Or what about John and Abigail Adams? They wrote over 1,000 letters to each other as a couple. So cute!
Not all relationships make it though. Desi and Lucy split up after 20 years of marriage. Other classic relationships end as well. Jerome Powell, Chair of the Federal Open Market Committee, said as much in a recent speech. He was waxing philosophical about money supply no longer being a predictable forecaster for economic growth when he said,
"M2 was removed some years ago from a standard list of leading indicators, and it's just that classic relationship between monetary aggregates and economic growth and the size of the economy, it just no longer holds. We've had big growth of monetary aggregates at various times without inflation, so something we have to unlearn, I guess."
M2 is a measure of money supply. As you can see in the chart above, there seemed to be a positive correlation between the amount of money sloshing around in the system (red line) and the year-over-year change for the Consumer Price Index (blue line). In other words, when the money supply relative to the nation's gross domestic product was climbing, inflation tended to have an upward trend. But that classic relationship has broken down this century.
A new chapter could be emerging. Sometimes couples rekindle their old flames. We see the dramatic upturn in the money supply from the Federal Reserve's response to the pandemic, and suddenly there's an upward hook to inflation data. It's preliminary. Kind of like a first date after decades of not seeing each other. It's unclear if it will fizzle out and look like the last 20 years. Atlas will help you decipher it in the future, but we'll let you judge the merits of the upcoming Lucy and Desi biopic starring Nicole Kidman.