You are here

Slower Not Lower
Slower Not Lower
Submitted by Atlas Indicators Investment Advisors on July 23rd, 2021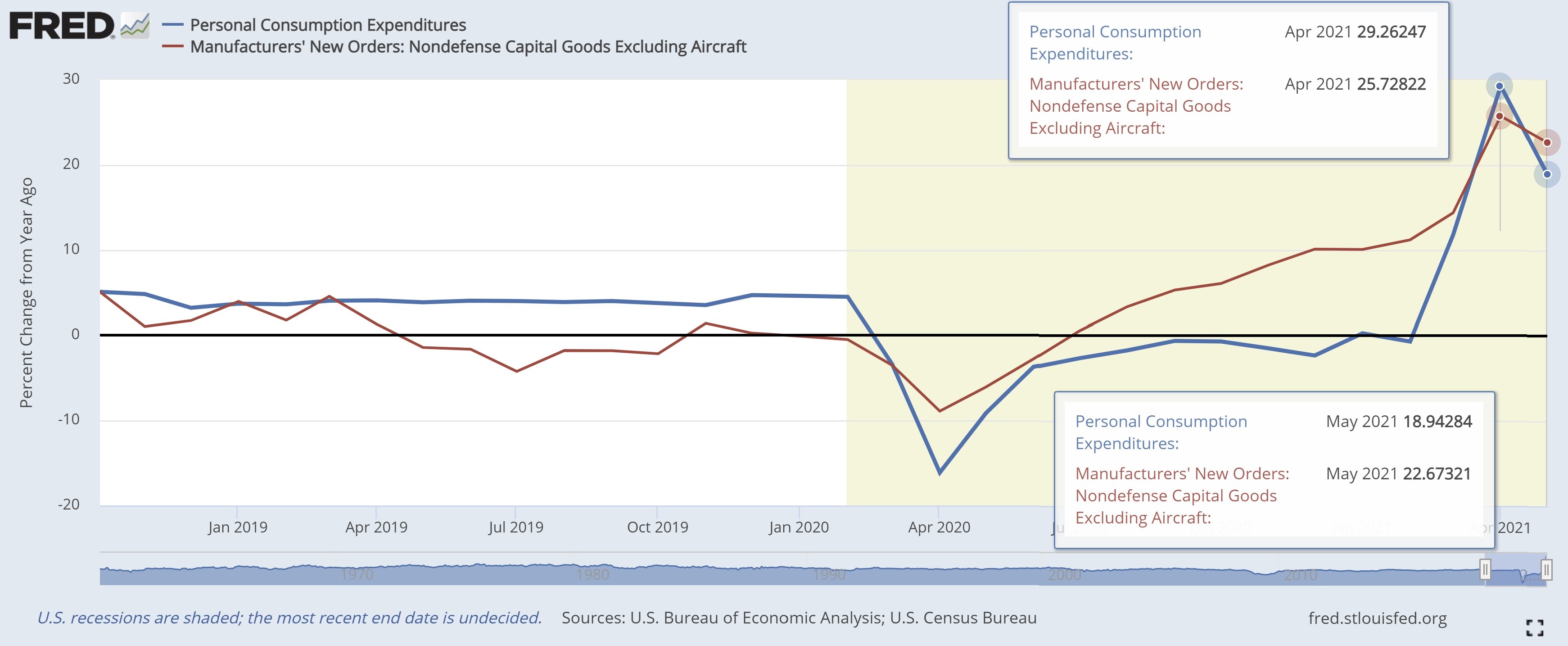 Here we are at the beginning of the Fourth of July Holiday weekend in America. With a long weekend, many will visit friends and family. With travel volumes expected to be elevated, one's odds of finding themselves in traffic is high. You know that feeling; you are motoring down the highway, just slightly above the posted speed limit, and then the brake lights light up. You may not come to a complete stop, but your pace suddenly feels snail-like.
America's business cycle is experiencing a similar phenomenon. It's been motoring at a faster-than-normal pace as the Federal Reserve and Federal Government pressed their monetary and fiscal pedals to the metal. Now it appears the economy's peak acceleration is in the review mirror. We will not know officially until the end of this month when it is released, but the year-over-year gross domestic product tally will likely be lower than the first quarter of 2021. As you can see in the chart above, a couple of important components (they represent roughly 80 percent of America's output) are already decelerating on a year-over-year basis.
Business cycles are often represented by a stylize sine wave. Recessions end at the bottom of the cycle and begin just after its top. In between these two points, the economy is the "virtuous" portion of the sequence. Of course, this simplified model does not fully represent the complicated nature of America's economy. If it did, planning for phase transitions would be easy. Instead, there are periods of accelerating and decelerating growth within any expansion.
Brake lights ahead do not mean you'll miss the barbeque or fireworks. They just mean the pace of travel has slowed. America's economy is still moving in the right direction, up. Finding signs of an approaching contraction is difficult at this time. In fact, the odds seem high that the current expansion will still be in place for the year-end holidays as well.
Happy Fourth of July!