You are here

Passing the Baton
Passing the Baton
Submitted by Atlas Indicators Investment Advisors on April 11th, 2023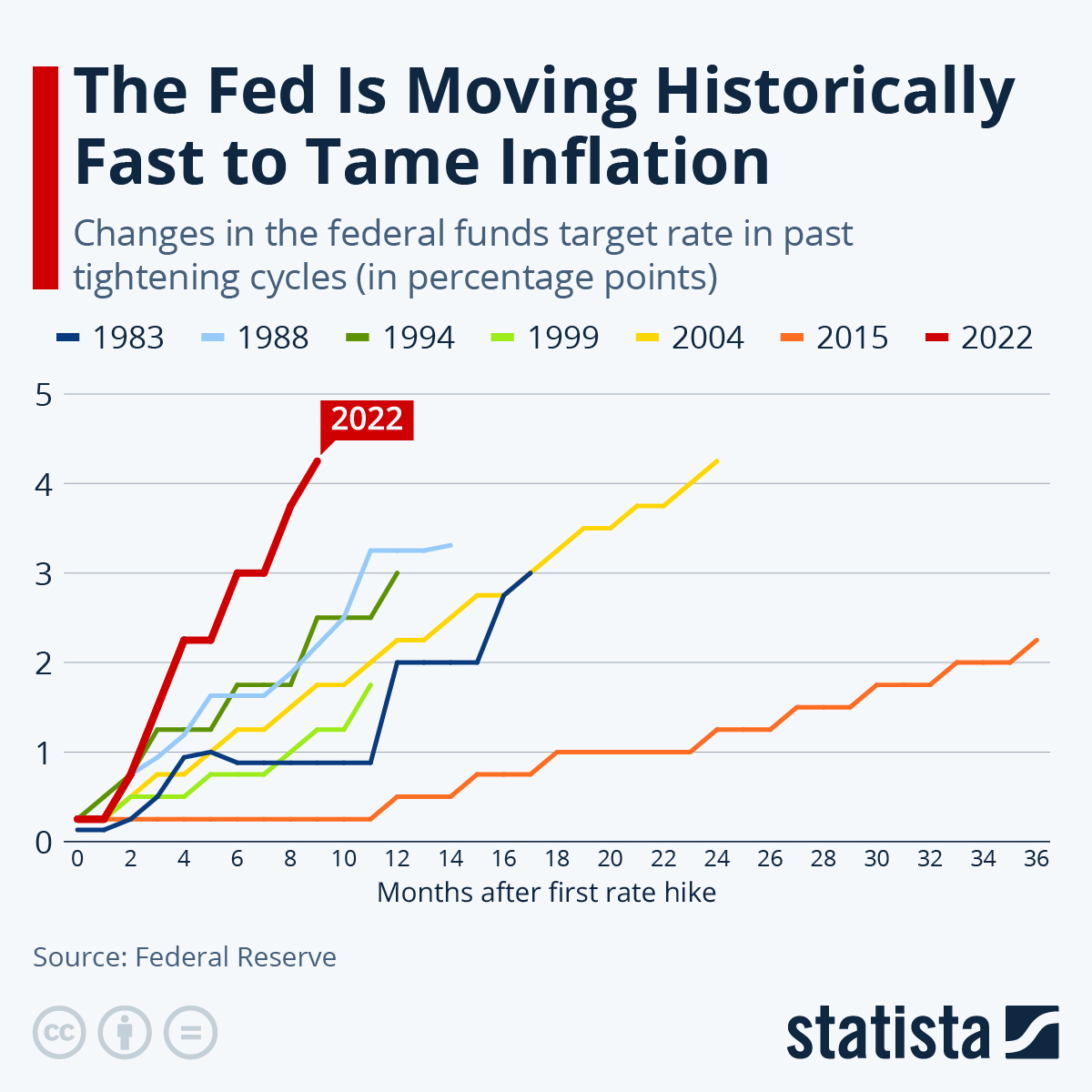 "Move fast and break things" was the motto Facebook founder Mark Zuckerberg created to describe the characteristic of processes he wanted implemented at the company. This mindset was duplicated across many technology firms as entrepreneurs marveled at Zuckerberg's successes. In 2019, the Harvard Business Review wrote this article, suggesting this fast-moving era had come to an end. Nobody ever bothered to tell the Federal Reserve or its Federal Open Market Committee (FOMC).
Fast forward a few years and America's central bank is copying that methodology. The pace of interest rate hikes is unprecedented. Never has the overnight lending rate increased so quickly. As you can see above from the chart created by Statista which does not include the hikes of 2023, the trajectory is much steeper than previous periods of tightening (see their article here). The pace of hikes is having unintended consequences. For instance, when the Federal Reserve created its stress tests for banks after the Global Financial Crisis, they didn't imagine needing to hike rates with such rapidity, so they couldn't foresee the prices changes that have occurred in some of the safest credit quality bonds in the world (U.S. Treasuries) which have impacted some smaller banks in adverse ways, even breaking a few of them.
Atlas does not have an insider over at the Federal Reserve, so we cannot say with any certainty how they'll carry on. Instead, we look to the markets for clues. Treasury bond yields for various maturities have been flopping all over the place lately. Additionally, the interest rate options market is currently tilted toward another hike at the next FOMC meeting according to the Chicago Mercantile Exchange's FedWatch Tool. Meanwhile evidence of a slower output in America continues mounting, so the economy's upward trajectory may also prove to be broken for a bit.