You are here

pôrtˈmantō
pôrtˈmantō
Submitted by Atlas Indicators Investment Advisors on October 16th, 2020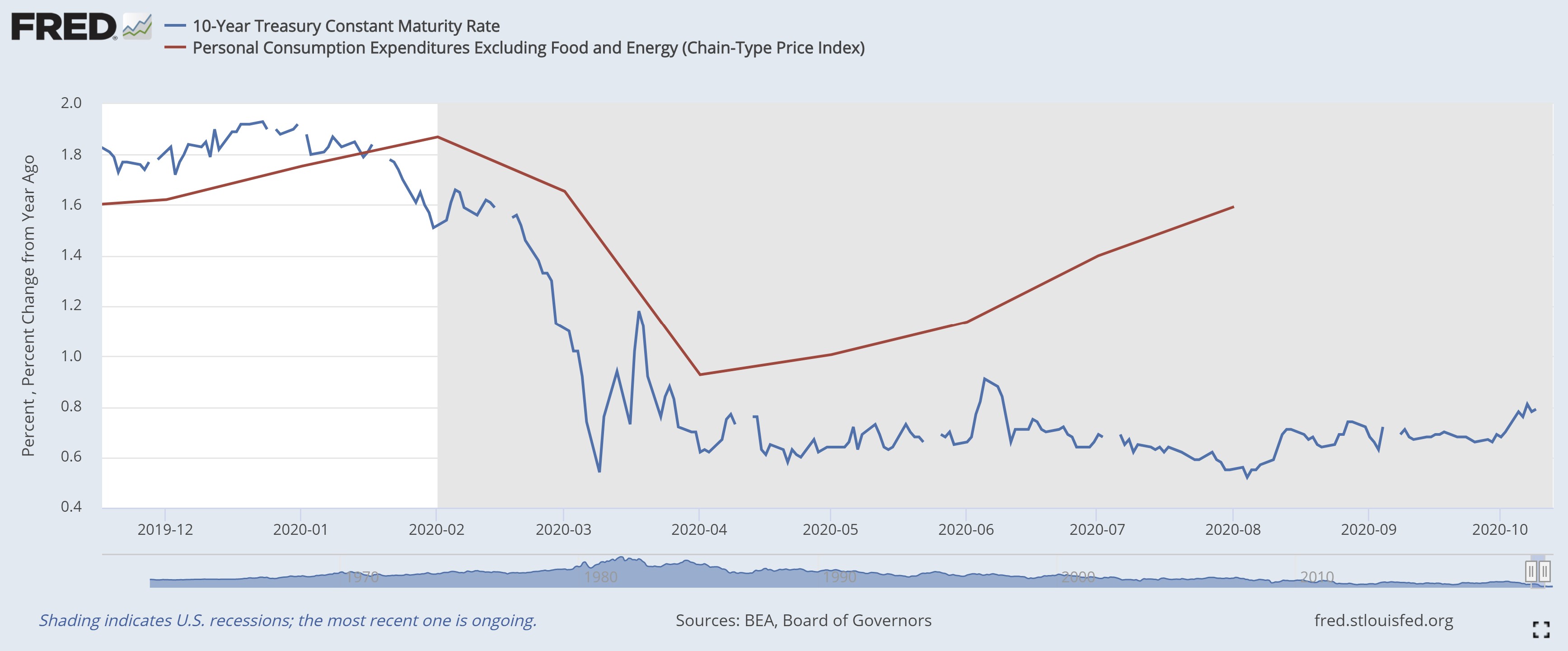 A portmanteau is one for my favorite tools of the English language. It sounds awfully French to be English, but I digress. They result from blending two or more words. Spork is probably the most utilitarian one I can think of. You can eat a salad or bowl of cereal with that portmanteau. Those of us in Southern California are familiar with smog (smoke + fog). Have you slept in on the weekend and enjoyed one? Brunch (breakfast + lunch) with friends was a favored pre-coronavirus activity to which I look forward to returning.
While it isn't a portmanteau, repression sounds like one (recovery + depression). Ok, not the smoothest segue, but financial repression is a tool currently utilized by the Federal Reserve and U.S. Government to help pay for all the efforts put into pulling the American economy from the brink of a depression and into recovery mode. The wild thing is that it started as a response to the Great Recession earlier this century and has pretty much continued through the current catastrophe.
Last week's note (click here to review) mentioned this paper from two economists at the International Monetary Fund. In it, the authors Carmen M. Reinhart and M. Belen Sbrancia describe why and how financial repression is used. Typically it is a way of paying down debt relative to a country's gross domestic product by forcing rates lower through various mechanisms (e.g., interest rate controls, requiring higher capital levels for banks, or directing loans to certain industries).
Unfortunately, tools utilized generally work against savers by pushing rates down below the rate of inflation. Sound familiar? A 10-year Treasury bond yields well under 1.0 percent these days while the year-over-year inflation rate has been higher this year (see chart above), and the central bank wants it's preferred inflation target to move even higher.
In a way, the Federal Reserve is acting as a portmanteau to savers: frenemy. On one end, they are trying to keep the economy from falling off a cliff by making government borrowing costs cheap as fiscal policies expand America's deficit in the current Coronavirus Crisis. Meanwhile, their policies are at odds with those looking for a government-backed positive yield after inflation.