You are here

Business Cycle 
Business Cycle 
Submitted by Atlas Indicators Investment Advisors on December 3rd, 2020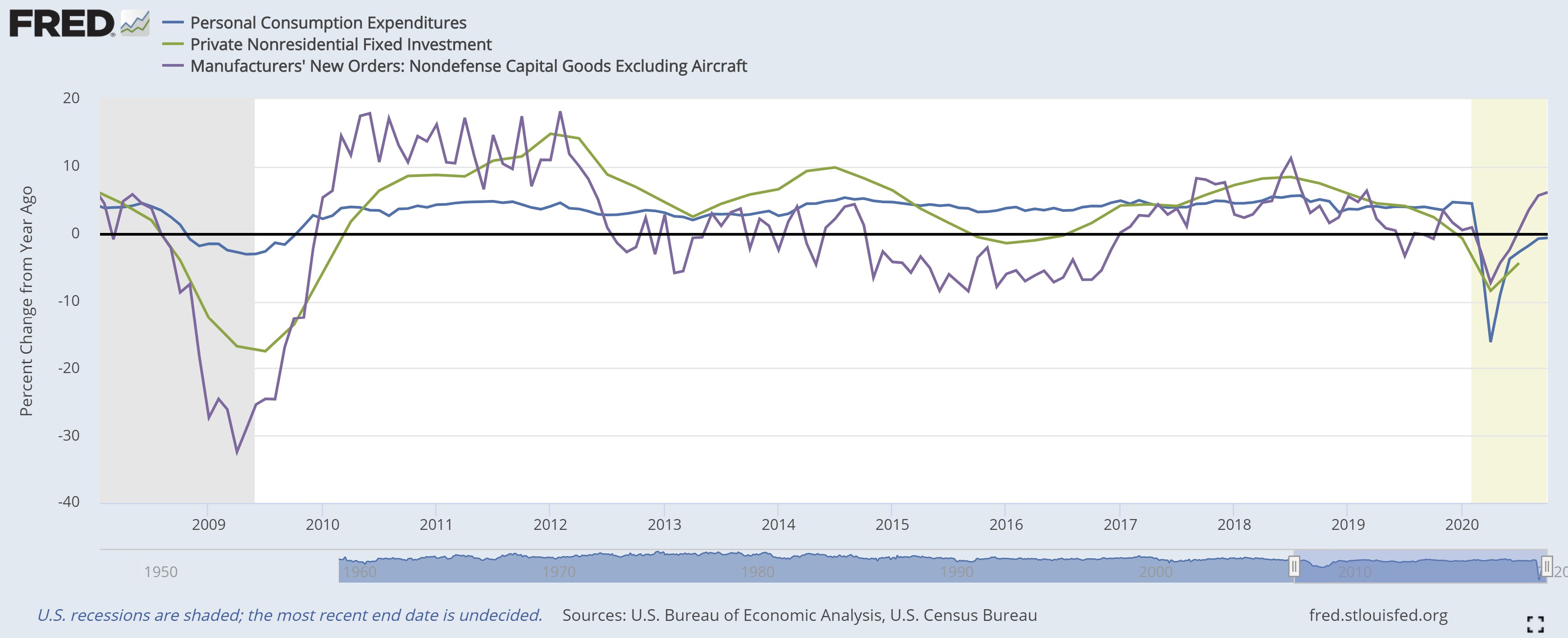 Our economy oscillates irregularly between expansion or contraction. It is often illustrated using a stylized symmetric sine wave, demonstrating the virtuous and vicious portions of the economy depending on the direction of the curve. Unfortunately, the actual cycle is not so smooth.
A nation with roughly 330 million people is going to be complicated. Add to it regional differences in cultures and geographies and the complication grows quickly. And that's what we have here in America. Hundreds of millions of people executing a complex mix of both rational and irrational decisions at any given time. This makes deciphering the direction of the economy tough, and even more challenging in the midst of a global pandemic which has left tens of millions of Americans in vulnerable financial situations. So, where are we?
Our economy has two primary components: personal consumption and business investment. These make up nearly 90 percent of America's Gross Domestic Product (GDP). Understanding their direction is helpful in understanding the trajectory of our economy. As you can see in the chart above, the blue line (personal consumption) dipped severely in the recession earlier this year, rebounded, and has most recently started to flatten out. The other two lines represent business investment in both capital equipment (the blue line) and nonresidential building (the green line). Firms have been busy constructing building and increasing spending on things like machines and computers.
For the most part, things look like they are continuing to heal. American equity markets seem to be sympathetic to this narrative as well since they have been positive thus far in the current quarter. Also, the Treasury market yield curve maintains its upward bias, typically a harbinger of good things to come. Our nation, however, has endured plenty of suffering, and this can take up a lot of space in the headlines, so perhaps worrying about the next recession comes easier than normal. Atlas puts forth a daily effort to watch data points and not the largest print above the fold of the morning paper, and it still looks like the economic trajectory remains in the virtuous portion of the business cycle.