You are here

February 2018 Income and Outlays
February 2018 Income and Outlays
Submitted by Atlas Indicators Investment Advisors on April 11th, 2018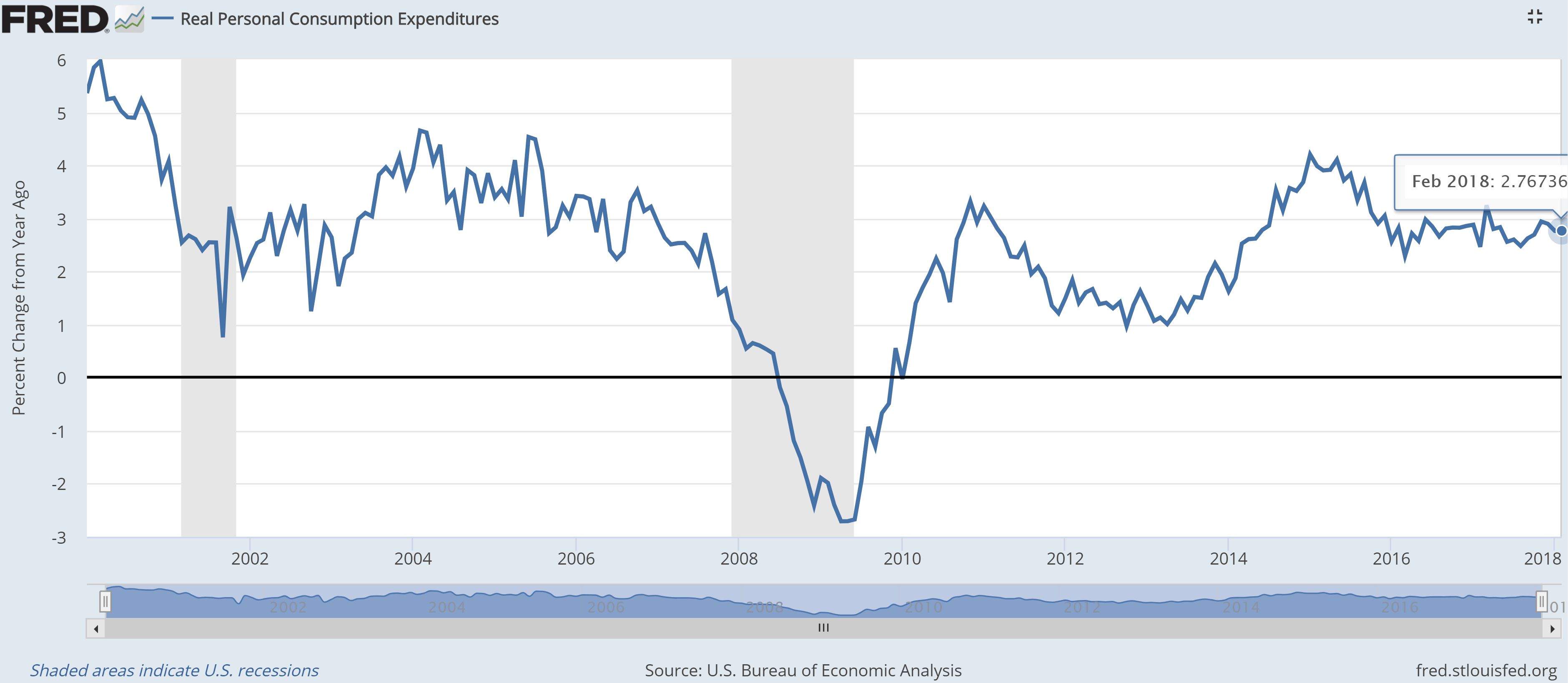 Both incomes and outlays increased in February according to the Bureau of Economic Analysis. Personal income rose $63.7 billion or 0.4 percent after also rising 0.4 percent to start the year. After-tax pay also increased 0.4 percent. Personal Consumption Expenditures (PCE) managed an uptick of 0.2 percent which means the nation's savings rate improved to 3.4 percent from 3.2 percent in January. Inflation data within the release firmed as well.
All four primary income categories rose. Wages and salaries jumped 0.5 percent, leading the overall figure higher because it is the largest component. Proprietors' income jumped 1.1 percent, but it is roughly one-sixth the size of wages and salaries, so its overall impact was less. Personal income receipts on assets (think dividends and interest) grew a respectable 0.3 percent. Finally, rental income (the smallest category) rose 0.6 percent.
Spending was more favorable for services, but outlays for goods were mixed. Americans spent 0.3 percent more for services in the period; this is the largest portion of spending, so it helped keep the rate of change for consumption positive. Spending on nondurable goods eked out an uptick of 0.2 percent while their larger counterpart, durable goods, fell 0.3 percent.
Inflation appears to be firming but remains below the Federal Reserve's explicit target. The (PCE) price index increased 0.2 percent versus a month earlier. Removing food and energy, the core-PCE price index also rose 0.2 percent. Versus a year earlier, the central bank's preferred measure of inflation (core-PCE price index) reached 1.8 percent, just shy of their 2.0 percent target.
Output is growing, but the rate of change is a bit stagnate. As you can see in the graph above, personal consumption expenditures spent quite a bit of time above 3.0 percent during the last economic expansion but very little time above that level in the current business cycle. Consumption is the largest contributor to America's economy; without it growing faster, the economy will likely struggle to reach the pace of growth experienced in other periods on a consistent basis.