You are here

Fourth Quarter 2017 GDP Final Revision
Fourth Quarter 2017 GDP Final Revision
Submitted by Atlas Indicators Investment Advisors on April 10th, 2018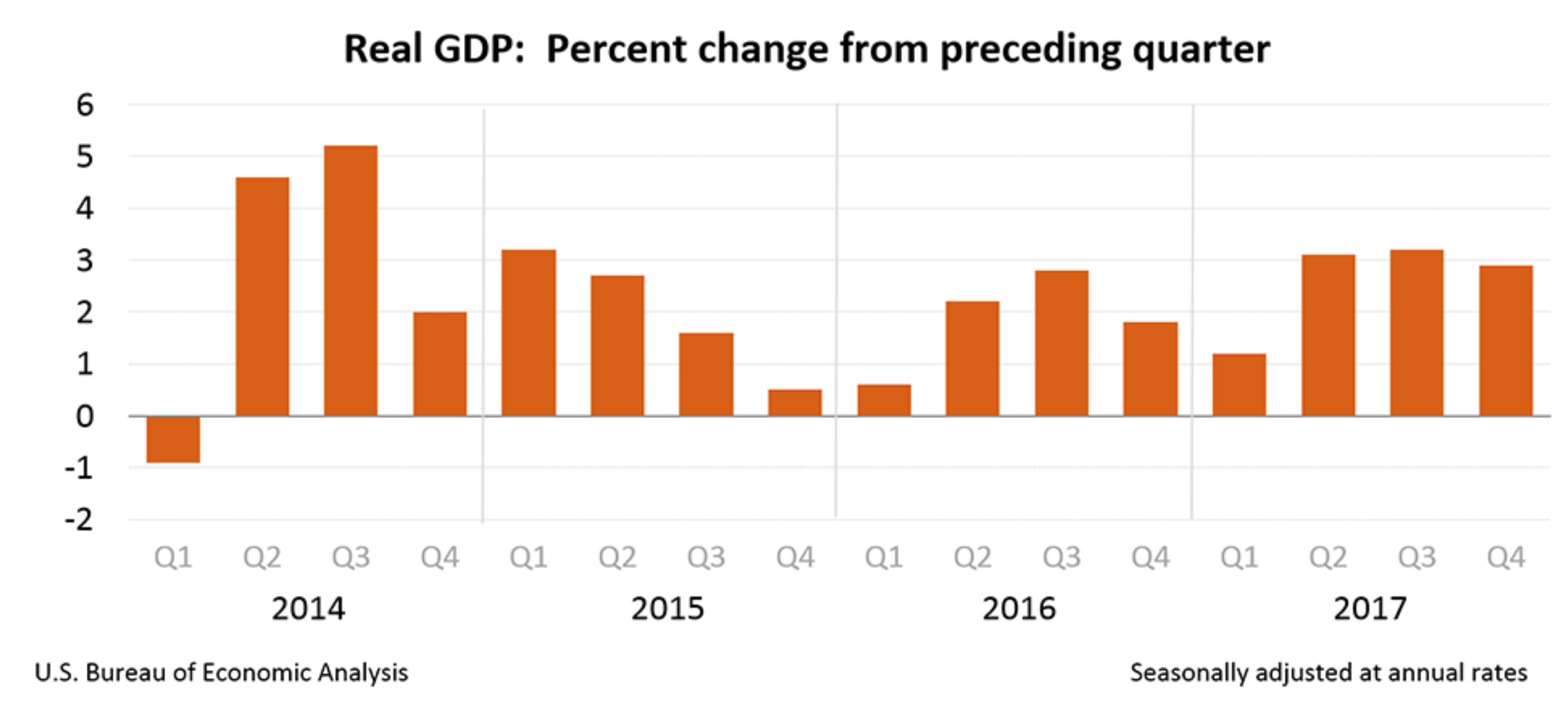 After more complete data were collected, it now appears the American economy grew faster than two earlier estimates suggested. The Bureau of Economic Analysis now estimates Gross Domestic Product (GDP) grew by 2.9 percent on an annualized basis in the final quarter of 2017. This final revision followed the first and second estimates which came in at 2.6 percent and 2.5 percent respectively.
Upgrades to consumption led the tally higher. Consumer outlays reached 4.0 percent on an annualized basis (originally 3.8 percent); services were upwardly revised to 2.3 percent (originally 2.1 percent), and nondurable goods got a 0.5 percentage point upgrade to 4.8 percent. Durable goods spending was downwardly revised by 0.1 percentage point but was still at an impressive 13.7 percent. However, this surge is related to post-hurricane car spending and is unlikely to be repeated. Overall, consumer spending accounted for 2.8 percentage points of the 2.9 total in the quarter.
The other three components that make up the GDP calculation were mixed. Business investment was healthy, especially nonresidential fixed investment which was upgraded 0.2 percentage points to 6.8 percent on an annualized basis. Government spending eked out a slight gain. As usual, net exports were negative in the period, causing America's trade deficit to subtract 1.2 percentage points from this final GDP figure.
Output was strong in the final quarter of 2017. Consumers were spending money and businesses invested in equipment. These are fundamental building blocks of our nation's output. In just a few weeks we will get our first glimpse of output in 2018. Do not be surprised if it is lower than this iteration. For many years the first quarters have been the weakest of the calendar. This pattern could be caused by some leftover seasonality in the data because it has been fairly consistent during the current expansion. For now, all of the evidence leads Atlas to conclude the economy is in relatively good shape.