You are here

January 2018 Employment Situation
January 2018 Employment Situation
Submitted by Atlas Indicators Investment Advisors on February 3rd, 2018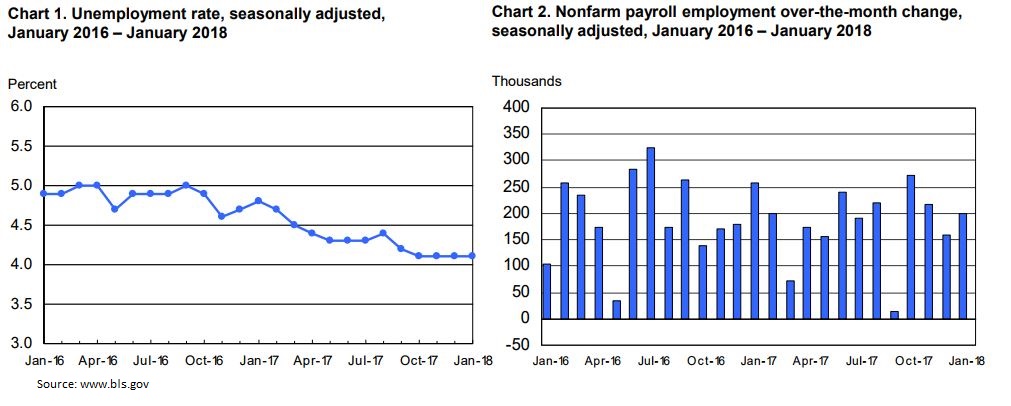 America's economy continued adding jobs in January according to the Bureau of Labor Statistic's report on the employment situation. Employers added 200,000 net new jobs in the period. Additionally, December's tally was upwardly revised to 160,000 (originally 148,000), but November's tally was downwardly revised to 216,000 (originally 252,000). Including the revisions, our economy added an average of 192,000 net jobs in the prior three months. The unemployment statistic held steady at 4.1 percent.
While the number of jobs and unemployment rate figures were impressive, Atlas was intrigued by few figures beneath the headlines. For instance, average hourly earnings for all employees on private nonfarm payrolls increased $0.09 to $26.74 after gaining $0.11 in December. Versus a year ago, this pay proxy is up 2.9 percent. With various consumer inflation figures beneath 2.0 percent, this means wages are growing even after factoring in price adjustments. However, there was a drop in the average hourly workweek, falling 12 minutes to 34.3 hours. On the surface, 12 minutes might not seem significant, but it is quite large when multiplied across the labor market's 147,810,000 workers. In total, pay declined nearly $100 million a week in January because wage gains were more than offset by the shorter average workweek. Of course, these are statistics and can be revised when more complete information is gathered.
January's employment report was mostly positive but included one fly in the ointment. Adding 200,000 jobs is constructive. Wages accelerating faster than inflation is encouraging as well. However, the decline in average hours worked is perplexing. Atlas will continue monitoring this portion of the report in the months ahead. Our fingers are crossed that the workweek's downtick is reversed in February.